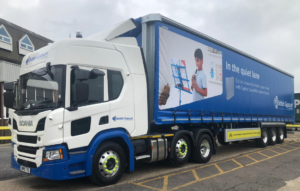 John Jempson & Son Ltd is a privately owned and operated General Haulage company, and has been operating from our headquarters in Rye, East Sussex since inception back in 1866. Our current customer base and business model, now sees us distributing in excess of 100 full loads of Plaster, Plasterboard and Dry Lining materials every day for our principle client, British Gypsum. Due to our location, a large percentage of these loads are delivered into Central London and the surrounding urban areas on a daily basis, requiring us to make a large number of vehicle movements in and out of the capital.
British Gypsum Contract Manager, Stephen Parker goes on to summarise how Jempsons have used the evolving FORS standard to assist the business in evaluating, developing and introducing a new state of the art EURO 6 fleet of vehicles (44t articulated and 26t Rigid), reducing the environmental impacts in terms of CO2 and NOx, delivering an increased 29 ton payload, whilst also meeting at the highest levels the latest DVS standards for 2020.
Our initial involvement with the FORS scheme, was back in 2013 the initial FORS standard was adopted and promoted by our customer, and very quickly became a contractual requirement, together with a very prescriptive progression plan. This saw us initially achieving our Bronze accreditation, before pushing on through Silver and ultimately onwards towards the Gold standard.
The picture opposite really encapsulates the result of the 6 year journey, seeing us now operating 53 x Euro 6, 44 ton Tractor Units with a new lightweight trailer fleet, achieving a 3* DVS rating. In addition we also have a further 5 x Euro 6, 26t Rigid vehicles, achieving the highest 5* DVS rating, all of which are sporting our customer livery to promote their brand.
The team at John Jempson & Son Ltd, passed our initial Bronze audit back in 2013 at the first time of asking, following a short period of research and internal changes, in order to bring some of our operational processes in line with the outlined requirements, but more importantly using the standard to drive some operational improvements.
The Silver standard was not only a contractual requirement, but was viewed internally as a way of strengthening and improving the business, again using the standard to focus attention in and on specific business processes. If I was asked to pick just a small selection of specific improvements, they would simply be the improvement in the robustness of our system for licence checking, our focus on driver training and finally, our ability to understand our environmental impact.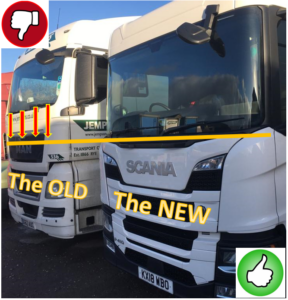 Since becoming an accredited FORS operator, the company has utilized many of the available FORS toolkits to enhance our operation, where possible aligned some of our other existing processes to mirror those available, and most certainly been making extended use of the available training, both for the drivers, the traffic office teams, and the company management.
We have also benefited from the extended networking opportunities that have presented themselves along the way, either by the forging of new relationships with industry suppliers, or indeed developing new potential opportunities for collaboration with others attending the courses.
'The ongoing continuation of our FORS accreditation has been instrumental in guiding the business and assisting it in developing, implementing maintaining and continuously improving a robust system of Staff Development.' – Mark Chamberlain, Managing Director
Personally speaking, having recently completed my FORS practitioner courses, combined with the available online resources feel that I am now equipped with all the knowledge required to be able to support the team, make decisions, deal with challenges with the depth of knowledge I now have.
'The driver training and development though the FORS, CPC training for VRU and Low City has seen the drivers transform into a more Professional, Safety Conscious and dare I say it, environmentally aware group. The professional development we have seen throughout the rest of the business gained via the FORS practitioner modules, classroom training and e-learning has been clear, and I am now proud to have an exceptional team of people, who can drive the business forwards' – Mark Chamberlain, Managing Director
The biggest measurable improvement we have seen over the past few years, can be seen and clearly measured, in terms of direct visibility afforded to the drivers from all our new vehicles.
A key consideration of the new fleet, was to improve driver's direct visibility, and the aim of our evaluation/decision making was to reduce the height of the lowest point of the windscreen.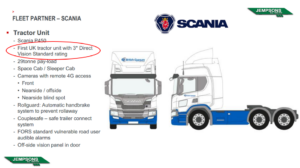 As can be clearly seen (left), moving from our existing and historic relationship with MAN, we were able to reduce this vital parameter by a total of 68cm, whilst ensuring we could maintain a 44 ton gross vehicle weight.
MAN TGX – 2.41m Scania P-Series 1.73m
With the addition of a low level nearside window, and intelligent movement sensing 4 way camera systems, we are now equipping our drivers with best in class vehicles to ensure the safety of Vulnerable Road Users that may interact in and around the vehicles.
Our new chosen provider of tractor units, were able to offer through our evaluation and procurement process, their newly released P-Series vehicle, with an option for the required 44 ton GVW, built on a chassis that is able to deliver class leading direct visibility, and will meet the new DVS standard at a 3* rating. This combined with additional multi-directional camera systems, and direct vision panels clearly demonstrates our intention and future direction.
It's again the same positive story for the new rigid fleet, this time in terms of the new L-Series platform adopted. With the combination of the new low entry chassis / cab delivering the highest rating in terms of DVS at 5*. With again the addition of multi-directional camera systems and direct vision windows, we truly believe we are equipping our drivers with the best possible fleet and equipment.
The table below demonstrates some of the year on year improvements we have been able to recognise and attributed to our FORS journey……..
| | | | | |
| --- | --- | --- | --- | --- |
| Period | Total Distance (KM's) | Total Fuel (Litres) | Consumption (Litres per KM) | Number of PCN's |
| 01/11/17 – 31/10/18 | 5,988,910 | 2,109,129 | 0.3522 | 51 |
| 01/11/18 – 31/10/19 | 5,595,971 | 1,913,969 | 0.3420 | 37 |
| Variance | -392,939 (-6.56%) | -195,160 (-9.25%) | 0.0102 (-2.89%) | -14 (-27.02%) |
The companies approach to driver health and fitness to drive has again been one of an evolutionary journey. We now undertake and extensive 'Fitness to Drive' programme, starting from the moment they join the business, with automatic enrolment to a private healthcare system. Day to day see's the drivers regularly completing medical questionnaires, and/or fitness to drive statements, with routine eye sight testing now being completed at the point of departure from site.
Recruitment remains a known industry challenge, but by using our 'Warehouse to Wheels' programme it has allowed us to develop employee's into the drivers of the future. Using word or mouth via the employee incentive programme, see's us currently being able to attract the right calibre of new recruits into the business.
In terms of noise assessment, over and above it being a FORS requirement, is a fact not lost on the team, as such a high percentage of our customers deliveries are made within urban environments, generally early in the morning. So following our initial noise assessment and communications, we identified a specific area where we were consistently generating the highest decibels, and tackled this as a priority. Empty running 'Roof Flex' has been totally eradicated, with new polycarbonate roof panels, replacing traditional aluminium were specified on the new trailer fleet that came into Service in August 2019.
We have looked in some detail at alternative transportation options to achieve the customer's delivery requirements, this has been in terms of potential rail options or alternative fuels / zero emissions. To this point, and in the main due to the location of the manufacturing/collection and location of delivery points this has not yet identified any viable options.
With our entire fleet now at the highest specification in terms of both vision and emissions, we have to keep pushing what we believe is possible. The future will see the business continue to make decisions with the FORS standard as a major consideration. As the industry and manufacturers keep bringing new and innovative designs to the market, we will be looking to deliver a safer and sustainable fleet either with our current providers or with a new partner. In conjunction with customers, we will be evaluating an incentive for increased night time deliveries, and/or the use of a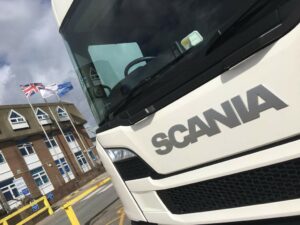 centralized consolidation centre for Central London deliveries, and could all be on our horizon, possibly combining these with the use of alternative fuelled vehicles or even zero emission alternatives, nothing is out of the question…….
As a longstanding member of FORS, it is now at the heart of our business, and as such forms a major factor in Management decisions, both in terms of vehicle and equipment specifications, but more and more being pushed up/down the supply chain. We have now embraced the digital revolution, and whilst late to the party in terms of social media we have now established ourselves, and promote FORS whenever possible. We are also incredibly fortunate to work with a major customer that whilst does not directly operate any of their own vehicles, has used the FORS standard, as the vehicle to re-inforce their "Zero Harm" vision across their extended distribution network.
In conclusion, obtaining the FORS Gold standard is seen both internally and externally as a real 'business differentiator', and for our company is very much viewed as a vital 'business enabler'!
Being able to share with our existing, or indeed any potential new customers, and promote that we are a 'FORS Gold' operator is something to be extremely proud of, and outwardly demonstrates the highest standards not only of the visible equipment, but importantly the companies employee's, and finally the business processes that sit behind it.
As we move forwards, we aim to through a programme of continuous improvement, to further enhance fleet, safety, people and process, and exceed our customer's expectations.
Finally, you can find out more about us by following the John Jempson & Son Ltd team and the latest company activity via either the company website, or now on Facebook, Twitter and even Instagram!
Website: www.jempsons.co.uk
Twitter: @JempsonsHaulage
Facebook: @JohnJempsonSonLtd
Instagram: @johnjempsonsonltd