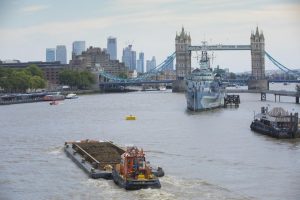 The Thames Tideway Tunnel is a multi-billion pound nationally significant infrastructure project, building a new super sewer for London to ease the pressure on the capital's current Victorian sewer system. Tideway specifies that all of its road transport contractors must be FORS accredited.
The project seeks to 'Reconnect London with the River Thames' using the river to transport the bulk of the material extracted and to deliver aggregates and tunnel segments. When the application for development consent was being prepared, FORS was built into its Construction Code of Practice, making FORS accreditation a contractual requirement for all Tideway road transport operators.
Gordon Sutherland, Traffic and Road Logistics Manager for Tideway explains why FORS has been crucial to help mitigate the risk to safety and efficiency across the Tideway road transport supply chain.
Can you tell us a bit about the Tideway project?
The 150-year-old sewer system currently in place in London was built when London had a population of 2m, with a capacity for 4m.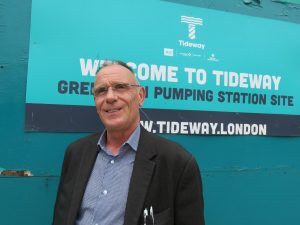 We are building a 16-mile-long tunnel from Acton in West London to Abbey Mills in the east, between 30m and 60m underground. The tunnel has a 7.2m internal diameter and will intercept the existing sewers to prevent millions of tonnes of raw sewage spilling, untreated, into the river every year.
As you can imagine, the project generates a lot of material – in fact around 8 million tonnes will be moved across the programme, and because this project is about reconnecting London with the river, much of this material is moved by barge.
More than 90 per cent of tunnel excavation generated is moved using the river. If we used the road only to move this material, we anticipate that around a million HGV movements would result. Using the river cuts that to around 280,000 road movements.
Can you explain your relationship with FORS?
Tideway began working with FORS at the very early stages of the project. We chose FORS as it is the nationally recognised accreditation scheme which focuses on safety and efficiency to help ensure high standards across our road transport supply chain.
Tideway recognises that people who work outside of the hoarding are just as important as those working inside, and therefore high standards should apply to anybody working on the job whether delivering to or working on the site.
Our commitment is to mitigate the risk to all vulnerable road users working on and using roads around this project's worksites and when travelling in the wider road network. We are building in a densely populated area, where there are also many other construction projects taking place, so even using the river, there remains a significant residual risk to road use associated with delivering goods or collecting excavated material to and from our sites; FORS is a tool that we feel helps manage this.
When we were creating the Code of Construction Practice for Tideway in 2012, we wrote FORS as a requirement into our Application for Development Consent.  This was then sent to the Planning Inspectorate, discussed at their hearings, and when approved, transferred into our Works Information and included in tenders.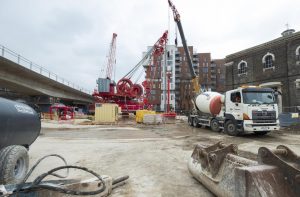 I am also member of the FORS Governance Standards Advisory Group (GSAG) and am the current chair of the FORS Executive Group, helping to structure the FORS Standard to ensure it remains current, commercially sustainable and reflects the needs of the now very diverse membership.
What benefits has Tideway gained by specifying FORS?
Even using the river barges, Tideway still has around 2,000 vehicle movements a week, ranging from vans up to large abnormal loads. Most are rigid HGVs, mostly tippers and mixers but also artic lorries bringing in steel and other materials which can't be brought in by barge, so we need to ensure the safety and efficiency of all these vehicles.
Our overarching approach is to do a job safely, or not at all, following our 'RightWay' ethos. Every member of staff is empowered to stop or intervene where they think things are not safe and FORS very much fits into that ethos.
We also have a commitment to the environment. Our Code of Construction Practice says that all vehicles will meet the standards of the London Low Emission Zone, and FORS helps us drive further efficiencies, to help reduce overall emissions.
Can you explain the process of Specifying FORS?
The case for doing so sits squarely with a good company's health, safety, wellbeing and environmental policies. You need to demonstrate where these do fit in and make a case to the senior management team. I'd also refer to any Corporate Social Responsibility policies. Be ready to explain what FORS is as well, its aims and objectives and how by your company specifying it, you would be contributing to raising the standard in the whole logistics industry, thereby creating a legacy for subsequent projects to benefit from.
Involvement with FORS must come from the top and be written into tender documentation. Once you decide to write FORS into tenders, you can choose which level of FORS is practical to meet the standards you require. Be sure to make these requirements clear; tenderers need to be in no doubt about what you want.
When our Development Consent Order was granted it became a contractual and legal requirement for all road transport operators servicing the project to be FORS Bronze accredited before they could start work on this project.  Operators must also then progress to FORS Silver within six months of their first site access date.
We have a process in place where we are able to look at a particular company or service and make an educated assessment of what that level of risk is. In these cases, we consider the amount of time on the project, type of vehicles operated, type of service provided, and decide if there is a case for staying at FORS Bronze for a one-off delivery or service. However, for tipper drivers and cement mixers for example, those companies would certainly have to meet our full requirements, there would be no exception.
Would you recommend specifiers chose FORS?
If you are responsible for a supply chain, FORS offers a clear route to safety and efficiency, which is applicable to all types of commercial vehicles, and I would certainly recommend it.
Being a FORS Specifier means we get updated information direct from the FORS team, who let us know if there has been a breach of the FORS Standard by a member, with real time information on any breaches which may affect our supply chain in order that we can take appropriate action. This is backed up with support from the FORS Specifiers microsite, online guides and the Specifier Briefings we can attend.
We use this ongoing dialogue to provide our contractors with up to date FORS information on our website. We discuss FORS on our Tideway construction logistics training course which is Driver CPC-accredited, and I have visited our supply chain with contractors to brief them on the traffic and logistics requirements of the project, including FORS.
FORS has an industry wide audience – much broader than the construction industry itself, and we are able to share their best practice messages within and out-with this sector.
Ultimately, FORS gives us confidence in our supply chain. We know the vehicles and drivers coming onto our sites all meet a good standard and are all continuously striving to be even better.  For anyone managing a road transport supply chain or looking for a route to ensuring high safety and efficient standards such as on Thames Tideway – FORS provides the answer.
Tideway – facts and statistics
The Thames Tideway Tunnel is constructed using prefabricated concrete rings, made up of eight interlocking segments weighing five tonnes each
If transported by road, each ring would require two trucks: this would mean 60 truck loads required every day
Tideway is able to construct 20 rings in 24 hours, equating to 100m of tunnel a week.
The main tunnel boring machines (TBM) are more than 100m long
The barges on the river were specially built for the project, with four barges filled a day, moving 15,000 tonnes of materials in the central section
Acoustic enclosures were built to cover the main tunnel drive sites allowing tunnelling to continue 24 hours a day. These colossal buildings house two five-story-high gantries and a 60m vertical conveyor, taking materials down to the TBM
To find out about specifying FORS click here.
To learn more about Tideway click here.