Liquid waste management company, MTS Cleansing Services, believes FORS, the Fleet Operator Recognition Scheme, has been fundamental to a marked improvement in fleet productivity. The Kent-based company credits the FORS Professional training portfolio as a key contributor to helping boost efficiency.
MTS Cleansing Services began its current FORS journey in June 2019, undertaking an initial FORS Bronze audit for 42 trucks and vans at its principal location in Rochester. The organisation rapidly progressed through the different levels of the scheme, achieving FORS Gold accreditation in April this year. Having fully embraced the scheme, the MTS Cleansing Services team recall that even though FORS Silver status was mandated in order to meet HS2 contract requirements, the progression to Silver then Gold has subsequently opened revenue streams elsewhere for the company.
The company's H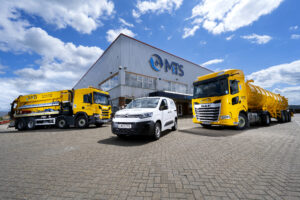 ead of Fleet & Compliance, Richard Fletcher, is a qualified FORS Practitioner after completing the certification requirement of ten fleet management training modules. MTS Cleansing Services also employs Academy Manager, Charlotte Taylor, who is responsible for training and was instrumental in introducing FORS into the business model. Today, MTS drivers are regularly provided with FORS Toolbox Talks, toolkits and other guidance, which has led to drivers having fully embraced best practice.
"After becoming FORS Bronze accredited," said Charlotte Taylor, "we realised FORS was able to provide a consistent and reliable audit service. This ensured all our vehicles running out of Rochester, and our fleet operations generally, were legally compliant, safe and efficient. This provided the impetus to go on the FORS journey to achieve even higher levels of best practice. Then," she said, "our HS2 work presented us with a contractual requirement to attain FORS Silver, and this has certainly led to new business wins elsewhere.
"Very soon after, and though there was no specific business requirement, we set our sights on FORS Gold – to hit the highest quality levels of fleet management – and this is where the FORS training has become fundamental to fleet efficiency, especially helping drivers become even safer and even more productive. We've been FORS Gold for a few months now and we're very well motivated to maintain our high-performance levels going forward. Furthermore," she added, "the DVSA, when performing spot checks on our vehicles, appear very satisfied with our FORS Gold accreditation, and we've experienced no issues as a result."
With coaching and guidance at the heart of the company's transport operations, MTS Cleansing Services was shortlisted in the Training category at this year's high-profile Motor Transport Awards.
Video available here: https://www.youtube.com/watch?v=L49VDMjf51E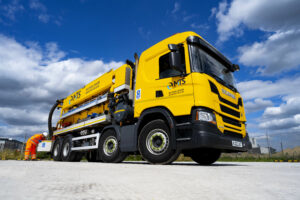 About MTS
MTS Cleansing offers a comprehensive range of domestic, commercial and industrial waste management services covering CCTV surveys, blocked drains, sewer / drain cleaning, flood response, waste disposal and recycling.
MTS Cleansing is a family business still owned by its founders Keith Crust (Chairman) and his brother Brian Crust (Vice Chairman) who started the company in 1986. From servicing local domestic customers with one vehicle, the company has grown to become recognised as the leading independently owned UK waste management and recycling company.